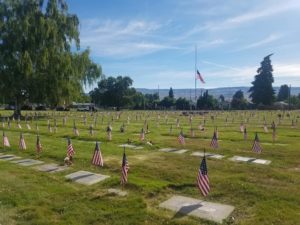 A generous donor has gifted 2 cemetery plots in the Veteran section of Evergreen Memorial Park (East Wenatchee) to VFW Post 3617. After careful consideration and deliberation, the Post has decided to sell these plots and use the funds for helping local veterans in need. They have asked that I spread the word through NCW Veterans Info in case any of my readers may be interested in saving a space for themselves in Central Washington.
The plots are valued at $8,000 each, but will be sold for $6,500 each. The purchaser would be responsible for the transfer fees, which should be around $200. It is possible to divide each plot in half to accommodate a pair of cremains if desired.
Interested parties should notify Post 3617 by 01 December 2022.
For more details, please see the blog post on their website.